Dunkin' Donuts apologises for Liverpool FC tweet error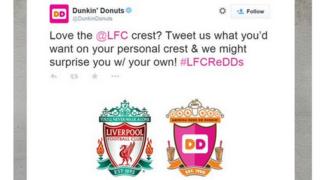 One of Liverpool FC's sponsors has apologised after tweeting a version of the club's badge replacing the Hillsborough eternal flames with cups of iced coffee.
Dunkin' Donuts also replaced "You'll Never Walk Alone" with "America runs on Dunkin".
Charlotte Hennessy, whose father James died at Hillsborough, called the advert an "embarrassing mistake".
A company spokesman said it did not intend to cause any offence.
He added: "We have removed the tweet and halted the campaign immediately."
'Embarrassing'
Ms Hennessy said the club's symbolic crest was important, "not just to the families, but to the club as a whole".
"It's something very special and very meaningful," she said.
"I don't believe that it was done to cause offence. We are sitting here at the inquests every day, there are bigger things to be offended about.
"It was a silly mistake, an embarrassing mistake, and it just needs to be left there really."
However, Ms Hennessy said the US doughnuts firm should have got to know the club better before choosing to manipulate the crest.
She added: "It's really embarrassing on their behalf."