Steven Gerrard CCTV case: Ex-PC Helen Jones jailed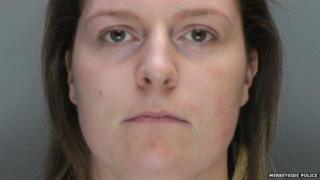 A police officer who seized CCTV footage of a street scuffle as a "tool to blackmail" Liverpool footballer Steven Gerrard has been jailed.
Helen Jones, 32, obtained footage of the row involving Mr Gerrard by "flashing her warrant card" to the boss of a Formby bank in August 2013.
The former PC admitted misconduct in a public office at a previous hearing.
At Preston Crown Court Jones, of Colchester Close, Chatham, Kent, was jailed for 22 months.
The incident involved friends of Mr Gerrard, the then-England captain, becoming involved in a row with other men at a bar near his home in Formby, which spilled out on to the street.
Local businessman Paul Lloyd, 35, claimed Mr Gerrard "threw the first punch" but, at an earlier hearing, prosecutors said the Liverpool midfielder was acting as a peacemaker on the evening of 4 August.
Jones, who then lived in Formby, claimed she was doing a favour for a friend when she improperly used her police status to obtain the footage.
During a three-day hearing last November, Judge Stuart Baker said he found her account "wholly implausible".
He said the CCTV was secured to use it "possibly as a lever to cause Mr Gerrard to pay money to suppress it or, at the very least, to use it in a way which would potentially cause embarrassment, as has in fact occurred".
During sentencing Judge Baker said: "This was deliberate and calculated misconduct in a public office."
Career break
He said while Jones may not have known who the CCTV would be passed to or for what purpose, it had caused Mr Gerrard and his friend Lee McPartland "serious personal embarrassment". He said Jones' actions also damaged the reputation of Merseyside Police.
Jones, who joined the police in 2005, was off-duty and on a career break when she went to the Lloyds branch.
Det Ch Insp Andy O'Connor, of Merseyside Police, said Jones's behaviour was unacceptable, adding: "We are quite clear, no officer is above the law."
He said: "This former officer let down her colleagues whom - day in, day out - provide a professional and quality service to members of communities across Merseyside."