Liverpool guide dog attack: Woman fined over 'out of control' dog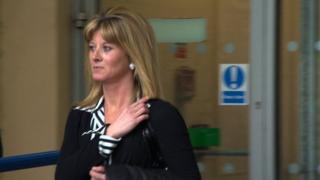 A woman whose dog attacked a guide dog has been ordered to pay £365 in fines, costs and compensation.
Shaness Boyd, 29, admitted having a dangerous dog out of control when her dog, a Staffordshire Bull Terrier crossed with a Rottweiler, attacked Rose Hill's guide dog Ushi in January.
Liverpool magistrates heard the guide dog and the owner were badly affected.
Ushi suffered injuries to her ribs and eyes and needed some re-training after the attack in Liverpool.
Boyd was prosecuted under new dangerous dog laws which protect assistance dogs.
Ms Hill, 55, was taking Ushi for the first walk on her own when the attack happened on 12 January.
She said: "It has left me with a fear of going out on my own with Ushi."
Insp Sandra Capkan, of Merseyside Police, said: "People who own or care for dogs should always make sure that they are on a lead in public and should consider whether they need to be muzzled."
Nick Mullinuex, Guide Dogs Liverpool team manager said: "We are very pleased to have worked together with Merseyside Police to bring this distressing incident to a close for Rose and Ushi.
"The new legislation came into force to endeavour to protect assistance dog owners and we are hopeful that this result will encourage dog owners to act responsibly around assistance dogs."