Garlands nightclub: Liverpool drug raid venue to reopen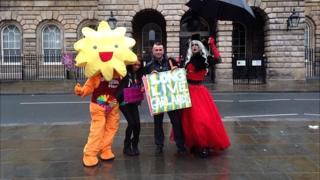 A Liverpool nightclub closed amid concerns over alleged drug dealing has been told to "get its house in order".
Officers stormed Garlands on 12 February while 200 people were inside.
More than 2,500 people signed an online petition calling for it be saved after a court order was granted to close the Eberle Street venue for three months.
Liverpool City Council's licensing committee has ruled the club can reopen from 18 May, but with certain conditions.
They include:
Removing the designated premises supervisor - the person responsible for liaising with police and the council
Changing the firm that operates security on the doors, and upgrading CCTV
Staffing the toilets with security staff at all times and considering changes to the layout of the unisex toilets
Implementing a new drugs policy which will be reviewed quarterly and agreed with police
Councillor Christine Banks, chairman of the committee, said Garlands must "get its house in order" and warned it would be closed again if it did not comply with the conditions.
Garlands solicitor Peter Barrow said: "This has come as a great shock to the club, and a terrible shock to the management.
"They have been working with the police and will do in future."
A small group of clubbers staged a colourful protest outside the town hall ahead of the council meeting earlier.
Ch Supt Jon Ward said: "We are delighted with the outcome today and common sense has prevailed.
"It is encouraging to see that the owners and management at the club have recognised their responsibilities and are more than willing to work together with us to ensure that club-goers can have a fantastic night out in a safe environment."
About 140 officers took part in last month's raid, which resulted in the seizure of large quantities of controlled drugs.
Two men aged 19 and 20, from West Derby and Birkenhead respectively, were arrested on suspicion of possessing and supplying controlled drugs.
They have since been bailed pending further inquiries.