Elemir Lakatos: Siege police used 'reasonable force', says watchdog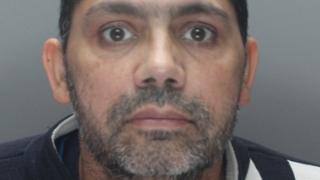 A police officer who shot a man holding his ex-partner hostage at knifepoint used "appropriate and proportionate" force, a police watchdog said.
The officer acted "in self-defence" when he shot Elemir Lakatos to end the siege in Liverpool, the IPCC said.
The Independent Police Complaints Commission also exonerated police for Tasering the the 47-year-old.
Lakatos was jailed for eight years in October for holding the woman hostage and making death threats.
When armed police arrived at the house in Dovecot at around 07:00 BST on 22 May last year, Lakatos was threatening her with a knife and what officers thought was a gun.
Officers tried to end the siege peacefully but stormed the house nearly two hours later using "distraction devices" and CS spray when it appeared Lakatos was going to kill his hostage.
An IPCC spokesman said: "The officer who fired the shot told IPCC investigators that, as he entered the front room, Mr Lakatos came towards him with a large knife so he fired once in self defence."
Other officers who entered the room found the hostage-taker on the floor in a foetal position but with his hands hidden.
'Threat to life'
As he struggled with them, possibly concealing weapons, he was shot with a Taser gun, the IPCC said.
Once pacified, the officers realised he was shot in the chest and gave him immediate medical help.
At the same time the woman being held was able to escape the property.
The IPCC spokesman said officers had "no choice" to enter the house when it appeared the woman was at risk.
"The force used was proportionate and appropriate considering the level of threat posed to the woman and the officers," he added.
A large knife and silicon applicator that had been wrapped in black tape to look like a firearm were recovered afterwards.
Merseyside's Chief Constable Sir Jon Murphy praised his officers' professionalism.
"Lakatos, who was drinking from a whisky bottle throughout the incident, was also phoning a friend with updates on his intentions and he told the friend that he intended to kill his former partner and would shoot police officers.
"A short while later he could be seen through the front window of the house, his former partner was kneeling down and he appeared to have a gun to the back of her head and was threatening to shoot her."