Hillsborough inquests: David Duckenfield admits 'mistakes' caused disaster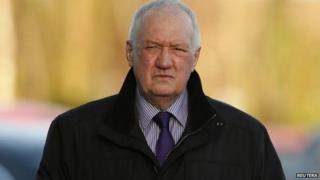 The Hillsborough police match commander has agreed he was incompetent and his "mistakes" and "oversight" contributed to the deaths of 96 fans.
David Duckenfield said he had done his "best under very trying circumstances and sadly my best was not good enough".
But he conceded failing to close the tunnel to central pens of the Leppings Lane terraces was a "blunder of the first magnitude".
He said he believed football fans contributed to the disaster.
Mr Duckenfield agreed while he was not negligent, he "did not act as a competent match commander" and "the risk of death was not obvious to me".
He also said he told Peter Wright, then chief constable of South Yorkshire Police, he had lied about Liverpool fans' behaviour to the FA chief executive Graham Kelly in the hours after the disaster.
The former chief superintendent said the revelation had left Mr Wright "very unhappy".
Mr Duckenfield was in charge when a crush developed in terraced pens during a FA Cup semi-final between Liverpool and Nottingham Forest at Sheffield Wednesday's stadium, on 15 April 1989.
Rajiv Menon QC, questioning Mr Duckenfield at the inquests, on behalf of 75 victims' families, said the match commander's "negligence caused the disaster and the deaths of 96 Liverpool fans".
"I wouldn't use the word negligence, sir," Mr Duckenfield said.
"What word would you like to use?" Mr Menon asked.
"Mistake. Oversight. Sir, I did not foresee the consequence," he replied.
He agreed with the coroner Lord Justice Goldring's assertion that a "reasonable, competent match commander would have foreseen where fans should go [and would have closed the tunnel to the pens]".
"Does it therefore follow that on the day you did not act as a reasonable, competent match commander?" the coroner asked.
"Yes, sir," Mr Duckenfield replied.
He also said he "cannot deny" his failure to give an order to close the tunnel leading to the Leppings Lane terrace's central pens was what Mr Menon called a "blunder of the first magnitude".
"Do you accept that those mistakes led to overcrowding, serious injury and death in the central pens?" Mr Menon asked.
"Today sir, 26 years on and with hindsight, the mistakes I made that day were a contributory factor," he replied.
'Chaotic, hectic, stressful'
Asked if he thought "drunk, ticketless and late fans" also contributed to the disaster, he said it was his view that "football fans played a part".
He said that while in his position in the control box he had no "first hand evidence" there were drunk and ticketless fans at the stadium, "I think there's been evidence at this court of fans pushing at the rear of people waiting at the turnstiles".
"I suggest that your failure to give that order to close the tunnel was so serious and fell so far below the standard expected... that it amounted to gross negligence," Mr Menon said.
Mr Duckenfield replied that "in my view, it was not negligent and it most certainly was not grossly negligent".
The hearing also heard that Mr Duckenfield did not know of the so-called Freeman Tactic of closing the tunnel to the Leppings Lane pens until "the last two or three months" of the inquests.
Asking Mr Duckenfield about a conversation with the FA chief executive in which he lied about fans forcing an exit gate, Mr Menon said when it "suits you, you can't remember [but] when you want to assert something, your memory is absolutely fine".
"This is one of the strange realities of post-traumatic stress disorder," Mr Duckenfield replied, drawing gasps from the courtroom.
He said he was "not making excuses" and had "nothing to cover up".
"I've put my hands up and have admitted my failings and I will continue to do so."
He said the situation had been "chaotic, hectic, stressful and I don't expect anybody in this courtroom to understand".
He admitted that by the time he spoke to Mr Kelly, he knew "something horrific was unfolding on the terraces", but said he "never gave another thought" to what he had said.
Mr Menon claimed this was the start of a police cover-up and "the beginning of a false narrative about Hillsborough [that] has sadly survived to this day".
Mr Duckenfield said he could not comment on "where we are with what has been said over the years, because I have shut myself away".
The barrister continued there were discrepancies between Mr Duckenfield's evidence to the court and the testimony he gave to the Taylor Inquiry, which investigated the disaster in 1989.
Mr Duckenfield replied "people don't lie, but there are inconsistencies".
"You're lying to Graham Kelly, you're lying to your boss, you're lying to the club, you're lying to the directors, you're lying to everybody," Mr Menon said.
"I've admitted my failings," Mr Duckenfield responded.
'Dismissed like a schoolboy'
Mr Menon went on to discuss the meeting Mr Duckenfield had with his chief constable about an hour after the disaster happened.
The former chief superintendent agreed Mr Wright was "furious" when he heard Mr Duckenfield's account of what happened and that he had lied and said the senior officer was "very unhappy overall".
"I remember walking in to his office, he was behind a desk and he was not best pleased about the events," he explained.
"I just remember having related my story and being dismissed like a schoolboy out of the headmaster's office."
The jury heard during a press conference on the night of the disaster, Mr Wright told journalists there was "nothing to connect the opening of gate C and the crushing in the central pens".
Mr Menon said this was "stage two of the police cover up - namely the assertion that there is nothing to connect the opening of gate C and the crushing in the central pens".
'Warning from 1981'
Mr Duckenfield said he did not accept he was "stage one... but I will agree with you totally that the comments of the chief constable were not as clear as they should have been".
He was asked about a final police planning meeting on 10 April, days before the disaster, when Mr Menon said he was warned about the dangers of overcrowding and crushing in the stadium's west terrace.
Mr Menon said Supt Roger Greenwood "specifically raised the issue" of crushing and overcrowding if Liverpool fans who had tickets for the Spion Kop were moved there, because of his experience in the 1981 FA Cup Semi Final between Wolverhampton Wanderers and Tottenham Hotspur.
Mr Menon said he should have been "alert" to the "serious risk to life and limb" if too many people were allowed into the pens.
Mr Duckenfield said he understood what Mr Menon was saying but could not recall the conversation with Mr Greenwood.
Earlier, he was asked about his admission on Wednesday that he lied about Liverpool fans forcing a gate open to enter the ground.
He said the reason he did not admit lying about fans' behaviour on the day sooner was possibly because he was "in denial".
He did not know when he realised he had made "such grave mistakes", he said.
He said the inquests were the "first [opportunity] to apologise fully without fear of seeing anybody misrepresenting what I was saying".
The inquests continue.
---
Who were the 96 victims?
BBC News: Profiles of all those who died