Timothy Brown judged 'low risk' before Toxteth killings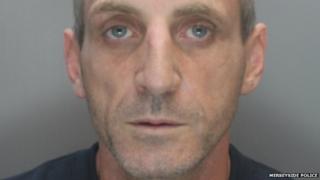 A man with schizophrenia who stabbed his parents was deemed "low risk" by psychiatrists the day before he killed them, a court has heard.
Timothy Brown, 47, called the Scott Clinic in Rainhill, Merseyside, last September, which sent a team to him.
Liverpool Crown Court heard a psychiatrist felt Brown had not displayed "behaviour that was overly concerning" and did not pose any risk.
Parents Paul and Dorothy were found dead at their home the next day.
A judge ordered Brown, of Devonshire Road, Toxteth, be detained at a secure mental hospital after hearing he had a history of paranoid schizophrenia.
'Concerning symptoms'
Brown, who admitted manslaughter but denied murder, had claimed a "spaceman" had told him to kill his parents, the court heard.
On September 12, a week before he killed Paul, 73, and Dorothy, 66, Brown's former partner was taken ill and he became convinced she was going to die.
Four days later, a psychiatric nurse delivering medication to his home reported he was displaying "concerning psychotic symptoms".
On September 18, Brown rang the Scott Clinic calling himself Nuclear Tim.
A team was dispatched to see him and, after an hour, a consultant psychiatrist concluded his behaviour was not "overly concerning".
The team tried to see Brown again the following day, but he was not at home. However, he told them over the phone he was fine.
Shortly after, Brown went to the home of his parents in Huskisson Street, Toxteth, forced open the door, went into a bedroom and stabbed them both to death.
He then went to his former partner's home and told her: "I've done it, I've slaughtered them".
She called the police, but Brown left and went to the Scott Clinic, where he told staff he had done it because a spaceman told him to.
Speaking after the hearing, Brown's brother David said he should have been "more closely monitored".
If he had, his brother said, the mental health team "would have realised he was a not very well person and he should have been sectioned".
A spokesman for the Scott Clinic said a review of Brown's care was nearing completion and would be shared with his family in due course.