Hillsborough campaigners receive CBEs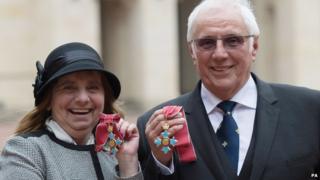 A grieving mother and father who campaigned to secure fresh Hillsborough inquests have received their CBE medals from the Queen.
Margaret Aspinall's son James, 18, and Trevor Hicks's daughters Sarah, 19, and Victoria, 15, were among the 96 who died as a result of the 1989 disaster.
They have been honoured for their work with Hillsborough Family Support Group.
The pair are among 70 people who received their awards at the investiture in Buckingham Palace.
Mr Hicks is president of the Hillsborough Family Support Group (HFSG) and Mrs Aspinall is its chair. They campaigned for more than 20 years for the new inquests.
'Bereaved families'
"It is quite obvious that she knew about Hillsborough because she did say 'things are better for you all now, hopefully? Things are looking a little bit different now'," said Mrs Aspinall
"I know she cannot say much about it, I just said yes," she added.
Mr Hicks described it as a day of "mixed emotions", saying "it is the first time I have got something that I would rather not have had, for obvious reasons, but I am extremely proud to be here".
He added: "It is our day in many respects but we do share it with all the other families and we must remember there are a few people who have died [since the tragedy] and they are not here to see the progress we have made."
Along with the late Anne Williams, who lost her 15-year-old son Kevin in the tragedy, they were instrumental in the lengthy legal battle which saw the accidental death verdicts in the previous Hillsborough inquests being quashed and a new hearing ordered.
The new inquests, which began just under a year ago, are being heard by a jury before coroner Lord Justice Goldring in Warrington.
Britain's worst sporting tragedy took place when 96 people died as a result of the crush on the terraces at Liverpool v Nottingham Forest match at the Hillsborough Stadium, in Sheffield.