Tatton Park firm asked for £6.9m loan from council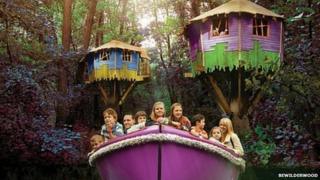 The firm behind controversial plans for a Tatton Park attraction asked to borrow £6.9m of council taxpayers' money, it can be revealed.
Rising costs of the Bewilderwood adventure park led to a 25% increase on the £5.5m loan originally requested from Cheshire East Council.
Plans included tree houses and a zip wire on the National Trust estate.
The council turned down the request from developers Bure Valley Adventures Ltd in February.
In 2013, details of the council's plans to lend £5.5m to the adventure park firm were uncovered following a Freedom of Information request.
The Conservative-controlled authority said it hoped the proposals would boost visitor numbers and help Tatton become more sustainable.
But local campaigners Tatton Park Action Group said it was a financial risk and could damage the character of the estate.
Tatton Park is owned by The National Trust, but maintained and operated by Cheshire East Council.
In February, Conservative councillor Peter Raynes, cabinet member for finance, said Bure Valley Adventures had asked for a loan which was "considerably more than originally envisaged."
"As a result, we reconsidered the project and decided that, at present, there are other more pressing priorities for the capital we have available for investment."
The council added work on proposals to extend and improve a number of Tatton's existing offers will continue.
Bure Valley Adventures Ltd, the company behind the Tatton Park plans, opened the original Bewilderwood adventure park in Norfolk in 2007.
The company was not available to comment.