'One-punch thug' costs victim senses of smell and taste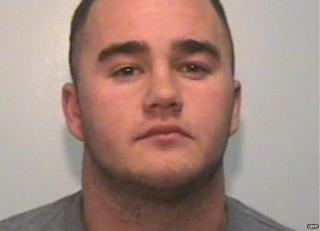 A "thug" who fractured a man's skull in a "one-punch attack", causing him to lose his senses of smell and taste, has been jailed.
James Pendlebury, 25, of Leigh Road in Atherton "blindsided" his victim after arguing with him at a Leigh taxi rank in the early hours of 9 March 2014.
The 24-year-old may never work again as a result of the attack, police said
Pendlebury was found guilty of assault at Liverpool Crown Court and sentenced to 42 months in prison.
Police said the attack happened after a group including Pendlebury and his girlfriend left the Vogue Nightclub in Leigh at about 05:00 GMT.
'Drunken disagreement'
The victim began arguing with Pendlebury's girlfriend, which the 25-year-old "reacted violently" to by knocking the man to ground with a single punch, police said.
The group then left the scene in a taxi, leaving the victim lying unconscious on the floor.
He suffered severe brain injuries which mean he can no longer smell or taste things. He also has balance problems because of lateral vertigo.
Det Con Stuart Woodhead said that while Pendlebury probably never imagined how much damage he would do, "that does not excuse what he did".
"This incident has effectively ruined two lives and for what? A drunken disagreement after a night out."
"Both these men's lives could be so different now had Pendlebury not resorted to violence without first thinking about his actions."