General Election 2015: Will fracking decide Chester?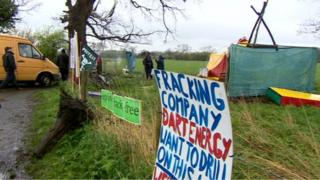 There have been protest camps, arrests and parliamentary debates but this election is the first big test of whether fracking will influence the way people vote.
The amount of media attention devoted to this controversial energy production method has increased markedly over the last five years.
The depth of concern over the the hydraulic fracturing of rocks deep underground to obtain gas only seems to be matched by the enthusiasm for it by some in industry and business.
The political parties are similarly split.
An interesting location to look at this debate is the City of Chester.
There hasn't been anywhere near the level of unrest over fracking in Chester as there has been in Balcombe in West Sussex, where Green MP Caroline Lucas was arrested in 2013.
There haven't been the police clashes like there have been at Barton Moss in Salford which led to the Happy Mondays dancer Bez standing on an anti-fracking ticket.
But for just over a year there has been a sizeable "protection" camp set up on a field near the suburb of Upton, scattered with caravans, tents, a vegetable patch and some wooden huts, one of which contains a library.
Dart Energy has planning permission to drill a test well to explore for coal bed methane at Upton Heath. but says no drilling is actually "scheduled or planned". It also insists it has no licence for fracking at the site.
But the issue could be important to the election in Chester because, unlike in Balcombe or Salford, the issue is playing out in a marginal constituency.
The Conservatives are defending a majority of 2,583, with two recent polls predicting a loss to Labour.
And some of the candidates in this close fight appear to have to adopted a different position over fracking than their parties generally take.
The Labour Party isn't against fracking per se - but for the last few years it's called for tougher conditions to be imposed on where and how it can be done.
Its candidate in Chester, Chris Matheson, though, goes much further, telling me in an interview for BBC Radio Merseyside: "I'm opposed to fracking in Chester, or frankly, anywhere else at the moment."
He says there are too many questions marks over the environmental and health impacts.
The Liberal Democrats approved a motion on fracking in 2013. The coalition's Lib Dem Energy and Climate Change Secretary, Ed Davey, said the technology could be used "sensibly and safely, protecting the local environment, with the right regulation".
But that point of view appears to be completely opposed by the party's Chester candidate, Bob Thompson.
"I think that it has the potential to do serious damage to communities" he told me, citing concerns over traffic and the risks over drilling through ground that's never previously been explored.
UKIP has been forthright in its support for fracking. In 2013 its energy spokesman, Roger Helmer, dismissed those protesting against it as "eco freaks".
The party's 2015 manifesto strikes a more cautious note, saying UKIP supports the method "provided safeguards are in place to protect local communities and the environment".
It cites fracking operations in the USA which it says have been "remarkably unproblematic".
But again, its candidate in Chester, Stephen Ingram, differs. He wants a national public inquiry over fracking, reasoning "more evidence from both sides of the argument needs to be put forward".
The city's incumbent Conservative candidate Stephen Mosley is at least willing to voice some support for fracking.
He told me: "We need a broad balance of energy supplies in the future, that includes nuclear, renewables, traditional gas and coal and fracking has got a role in that."
But he did add the idea of doing it "in the centre of Chester" was in his view "just crazy", blaming the way the last Labour government handed out the licences which allow fracking to take place.
The Green Party are classically considered to be the party most against fracking. But they won't get any votes at all from people in Chester, because they're not fielding a candidate.
Last week I spent some time at the shops in Upton, to see if any of the political manoeuvring over fracking was having any impact on the electorate.
Some were worried about the prospect of fracking happening so close to their homes, while another told me he "can't understand what all the trouble's about".
There were many others who just didn't know much about the the issue at all. But no-one told me it'll be at the top of their priority list on polling day.
But it seems those who absolutely don't want fracking to come to Chester have far more choice over who to vote for than those who back the idea.