Liverpool Love Activists evicted from bank on trespass charges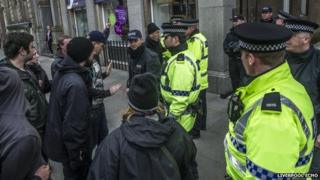 Five protestors who occupied a former bank in Liverpool city centre have been charged with trespassing.
Anti-homelessness group The Love Activists had been occupying the property on Castle Street since 1 April.
The protestors at the former Bank of England site were served with eviction notices two weeks ago.
The four men and a woman, 19, all of no fixed address, are due to appear before Liverpool magistrates later.
Two of the four men are aged 20 while the others are aged 22 and 50.
A 42-year-old woman was also arrested for obstructing police officers and on suspicion of handling stolen goods.
She remains in custody, said police.
Police said the Grade I listed premises has now been secured and a search of the building was taking place.
Ch Supt Jon Ward of Merseyside Police said it "will facilitate peaceful protest [but] we will not tolerate disorder, criminal or anti-social behaviour during any demonstration".
He continued: "Since this group forced entry to the building, numerous calls have been received by the police regarding the anti-social behaviour of some of the trespassers and some of their associated supporters in the street.
"This has included littering, urinating from the upper floors into the street below, noise and swearing."
He said although the force could legally enter the property and arrest those inside, during the last 25 days his officers have tried to negotiate and asked the group to leave on numerous occasions but to no avail.
The planned eviction started at 05:30 BST.