Christmas Elves 'punched and threatened' in Formby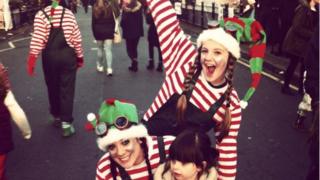 A group of performing Christmas elves has been left "traumatised" after being attacked by a gang of teenagers.
Entertainers Starkidz were "cornered" by the gang after a Christmas lights switch-on in Formby, Merseyside.
The performers, including one as young as 13, were abused, with one punched and another threatened with an airgun, said the troupe's manager Jan Hayes.
"We may not return to Formby next year," she said.
"We've been going for five years and we have never had any trouble like this.
"It started off with these teenagers trying take their hats or telling the children they are not real elves.
"Later on, a gang of about 20 cornered our group and one member was punched in the stomach as they were abused."
'Messages of support'
Ms Hayes said the one of the performers had an airgun held to his head.
"It was a very traumatic experience," she added. "The group member is extremely upset by this."
The elves have received dozens of messages of support via social media from parents.
One local mother, Nicola Cowie, said: "Starkidz bring so much to our community, they bring magic to life.
"Her Elves give it their all, they live and breath as elves while they're dressed in those costumes. I'd be so disgusted if my child acted they way those youths did."
A Merseyside Police spokesman said it was investigating a report of anti-social behaviour by a group of youths at the event.