Woman 'murdered' in Widnes street row intervention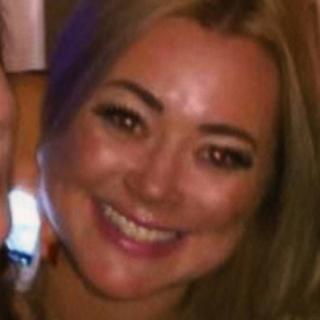 A woman who "presented no threat whatsoever" as she stepped in during a street row was murdered when the man involved thrust a broken wine bottle into her neck, a jury has been told.
Liverpool Crown Court heard Alison Wilson was worried about a baby's safety as the child's mother rowed with Stephen Duggan in Widnes on 7 March.
Duggan turned on the mother of two when she intervened, the jury heard.
The 28-year-old, formerly of Water Street in Runcorn, denies murder.
The court was told Ms Wilson had been in a taxi with her friend Anthony Tomlinson when she saw the argument between Duggan and the woman carrying the baby.
Severed jugular
Prosecuting, Gordon Cole QC said: "Having suggested the taxi slow down, Anthony Tomlinson shouted something like 'is everything OK, what's going on?' and said he should try to calm things down.
"Alison Wilson suggested it was better if she went [as] it would be less intimidating if she sought to calm things."
Mr Cole said Duggan turned on the pair, breaking the bottle over Mr Tomlinson's head before thrusting into the Ms Wilson's neck, severing her jugular vein.
The 36-year-old was treated by paramedics and doctors, but died six days later in hospital.
Addressing the court, Mr Cole said the defendant was "the aggressor... who lost his temper" and who may not have intended to kill Ms Wilson, but had "intended to inflict really serious harm".
The court was also told Duggan had previously pleaded guilty to the manslaughter of Ms Wilson, but that plea had not been accepted.
Duggan has pleaded not guilty to murder and wounding with intent. He has admitted assaulting the woman he was arguing with, but denies causing actual bodily harm to the baby.
The trial continues.