Groundhog Day: Liverpool cinema plans 24-hour marathon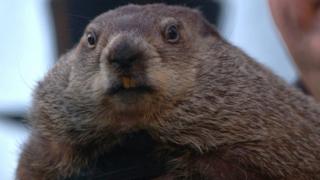 An independent cinema is to give fans a taste of Groundhog Day - by screening the film 12 times in 24 hours.
The 1993 comedy stars Bill Murray as TV weatherman Phil Connors having to relive the same day over and over again.
Liverpool's Small Cinema hopes a "hardcore" will try the challenge on 2 February, the day depicted in the film.
The cinema will provide cups of tea "to keep people going" and people will not be told off "for nodding off".
Christopher Brown, who works at the 56-seat cinema, said the idea was "a mixture of silliness and a genuine endurance challenge".
---
The real Groundhog Day
Each year, thousands of fans from as far away as Australia and Russia visit the tiny western Pennsylvania town of Punxsutawney on 2 February for what has become known as Groundhog Day
All eyes are on a very special rodent, Punxsutawney Phil, as local tradition states if the groundhog casts a shadow on the day, then winter will last another six weeks. If not, it is said spring will come early
People in the town have been looking to groundhogs for weather forecasts since 1887
---
Mr Brown said it would be like "trying to eat crackers without a glass of water [or] having a doughnut without licking your lips".
He added: "At the very least, it'll give the audience a new-found appreciation for Bill Murray's character's plight."
The event, which will run from 06:00 GMT until the same time the following day, will include a 20-minute break between each screening.
People only have to pay once.