Beatles drummer Ringo Starr's childhood home to be sold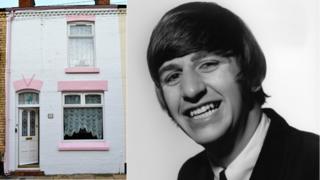 The childhood home of Beatles drummer Ringo Starr is to be sold at auction with a guide price of £55,000.
Plus Dane Housing said they had decided to sell 10 Admiral Grove in Toxteth, Liverpool, following the death of "well-respected" tenant Margaret Gorse.
A spokeswoman said restrictions on the sale would mean it could not be turned into a tourist attraction or museum.
Starr moved into the terrace from nearby Madryn Street as a small child and lived there until finding fame.
See more updates about this and other Merseyside stories
Plus Dane director Claire Griffiths said the company felt the decision to sell would be "most beneficial to the community as any profits made will be reinvested back into Plus Dane homes in the area".
The housing association's spokeswoman said the property "still attracts fans daily", adding that Ms Gorse, who lived there for 37 years, "was always happy to invite people in to have a look inside the house".
---
Beatles' houses for sale
John Lennon's house, 251 Menlove Avenue, and Sir Paul McCartney's home, 20 Forthlin Road, are both owned by the National Trust
George Harrison's home, 25 Upton Green in Speke, sold for £156,000 in 2014, while Lennon's home until he was five, 9 Newcastle Road, made £480,000 at auction the year before
Ringo Starr's home from birth, 9 Madryn Street, has been subject to uncertainty due to a plan to redevelop the area it is in, but Liverpool City Council recently said it was likely to be saved from demolition
Source: BBC/National Trust
Read more: Where did the Fab Four live in Liverpool?
---
Auctioneers Countrywide, who will host the sale at Liverpool's famous Cavern Club in March, said the house was "a unique part of Liverpool's history as well as that of The Beatles".
They said the house would probably sell for much more than the guide price, adding that the company "expect a high level of interest from potential buyers in the UK and internationally".