Sir Peter Blake unveils Dazzle print for Liverpool Biennial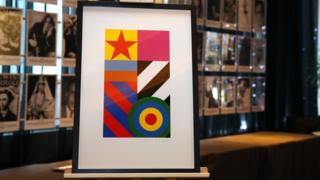 A limited edition print by pop artist Sir Peter Blake has been unveiled for the Liverpool Biennial art festival.
The new artwork, Dazzle, 2016, follows Blake's Everybody Razzle Dazzle in 2015 when he transformed Mersey ferry Snowdrop into a moving artwork.
The artist, famous for his design of The Beatles' Sgt. Pepper's Lonely Hearts Club Band album cover, launched the new print in Liverpool on Monday.
Sales of the print will go towards the Biennial education programme.
Sir Peter said: "This new print references both my early work and my recent Dazzle commission.
"I am proud to help Liverpool Biennial continue its impressive record of working with artists to create ambitious and challenging new work."
Dartford-born Blake's connection with Liverpool dates back to 1961 when he won the John Moores junior art award, beating John Lennon's friend and former Beatles bass player Stuart Sutcliffe.
Sir Peter said: "On my first meeting with John [Lennon] the subject of art came up and he muttered, 'Stuart should have got that prize, not you'. They were the first words he ever said to me."
Blake's Dazzle design on the Snowdrop ferry commemorated the centenary of World War One and was inspired by the work of ship designers who used the "dazzle" effect to try to avoid detection by the enemy.
The bright and twisty designs made it harder for hostile forces to track the range of allied ships.
---
Liverpool Biennial history
Liverpool Biennial is a free festival of new art.
Held every two years, the Biennial involves research, education, residencies and commissions.
Founded in 1998, Liverpool Biennial has commissioned 268 new artworks and presented work by more than 400 artists.
The festival runs from 9 July until 16 October.
---