Offensive Hillsborough banner removed by police in Salford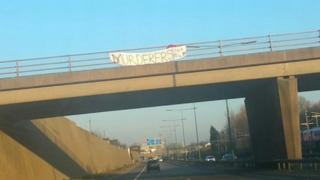 Police have removed a banner over the M602 motorway in Salford designed to taunt Liverpool fans heading to Old Trafford ahead of the Europa League game against Manchester United.
It bore the date of the Hillsborough disaster when 96 fans died.
Police said they were alerted to the sign and removed it immediately.
Manchester United criticised fans who sang chants about the tragedy during the Europa League defeat at Liverpool on 11 March.
Offensive songs were heard during Liverpool's 2-0 win at Anfield in the first leg of their last-16 tie.
Ninety-six spectators died after crushing at the FA Cup semi-final between Liverpool and Nottingham Forest at Sheffield Wednesday's Hillsborough ground on 15 April 1989.