John Lennon letter fails to sell at auction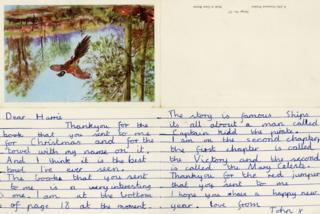 The earliest known letter written by John Lennon, which was estimated to be worth between £30,000 and £40,000, has failed to sell at auction.
The fold-out note, penned by Lennon when he was 11 years old, thanks his Aunt Harriet for presents she sent him, including a book about ships.
Lennon sent the thank you note shortly after Christmas 1951 to his mother Julia's younger sister.
It was put up for sale in the Beatles and Rock 'n' Roll Memorabilia Auction.
Click here for the latest news, sport, travel and weather updates from across Merseyside and west Cheshire
In the letter, which has a few grammatical errors, the young Lennon says how much he is enjoying reading a book about famous ships.
He wrote: "Dear Harrie Thankyou for the book that you sent to me for Christmas and for the towel with my name on it, And I think it is the best towl (sic) I've ever seen.
"The book that you sent to me is a very interesting one. I am at the bottom of page 18 at the moment. The story is famous Ships its all about a man called Captain kidd the pirate.
"I am on the second chapter, the first chapter is called the Victory and the second is called the Mary Celeste.
"Thankyou for the red jumper that you sent to me.
"I hope you have a happy new year. Love from John x"
The letter was formerly the property of his cousin David Birch, Harriet's son, and was being sold by Chorley-based TracksAuctions.com.