Shakespeare North theatre plans approved for Knowsley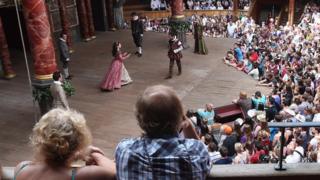 A new Shakespearian theatre is set to be built in Merseyside at a cost of £26m.
The 350-seat playhouse will be located in Prescot - the only English town outside of London to have a purpose-built indoor playhouse in the Elizabethan era.
William Shakespeare is thought to have belonged to a group of actors that performed in the area.
Councillors in Knowsley voted unanimously in favour of the theatre.
Peter Scott, chairman of Shakespeare North Trust, said the playhouse could form "something of a triangle between The Globe and Stratford-upon-Avon".
"Our vision all along has been to create somewhere in the north of England where Shakespeare's work can be studied and enjoyed for generations to come," he said.
Knowsley Council, which has pledged to invest £6m, said the government had confirmed it would also contribute £5m.
'Exciting day'
Plans for the new playhouse include a college focusing on the works of the Bard, who died 400 years ago.
It is estimated the centre will contribute "more than £10m worth of value to the local economy, as well as 210 construction jobs and 57 full-time jobs once the facility opens", a Knowsley Council spokesperson said.
In the 16th Century, the 5th Earl of Derby - a title derived from the Merseyside area of West Derby - funded a touring company of actors, which were named after his other title, Lord Strange.
It is thought that Shakespeare may have been employed by Lord Strange's Men, which performed in Merseyside and Lancashire, but there is no definitive proof.
John Flaherty, of the council, said the new theatre would regenerate the local area, adding it was "a really exciting day for Knowsley".
The project's patrons include former Beatle Sir Paul McCartney and Oscar-winning actresses Dame Helen Mirren and Vanessa Redgrave.