Michael Bay's Transformers role for 'Loneliest Dog' Freya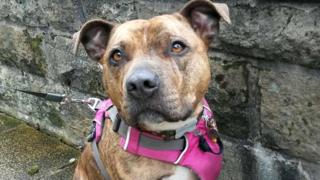 A dog which spent six years in an animal rescue centre in Merseyside is set to star in a Hollywood blockbuster.
Rescue dog Freya, a Staffordshire bull terrier, was chosen by director Michael Bay to star in the next movie in the Transformers science fiction franchise after he read about her story.
He tweeted: "Found this in the news last week in the UK. We gave the Loneliest Dog, a role in Transformers."
The dog-loving director also promised to help find her a home.
Freshfields Animal Rescue Centre has been trying to find a good home for Freya for the last six years, earning her the tag "The world's loneliest dog".
"Freya has epilepsy and has been in a shelter her whole 6 year life. We are also going to find her a home," he tweeted.
"If not she will come to my house. Welcome to the cast Freya!"
Bay reputedly has two bullmastiffs as pets, Bonecrusher and Grace.
Debbie Hughes, from the rescue centre said: "We have had Freya since she was found as a stray six-month old puppy who nobody ever claimed. We just hope she gets a home.
"She is a very loving dog."
Of the interest shown by the Hollywood director, she said: "To have this publicity is not just great for the Freya but the other 40 dogs we have."