Erin Cross: Target hit to fund Cheshire girl's cancer treatment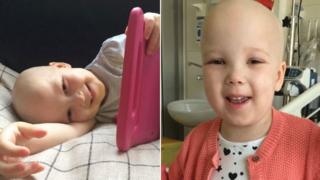 A family has reached its target to fund pioneering treatment for their five-year-old daughter who has acute lymphoblastic leukaemia.
A £100,000 appeal was launched for Erin Cross, from Cheshire, to undergo gene editing therapy in America.
The family, from Chester, has been told she needs the treatment within two months before her health deteriorates.
So far £112,000 has been raised. A post on the All About Erin Facebook page said: "Still going!!! Unbelievable!!"
The family, including mother Sarah Cross, said they are "getting queries in about where to go".
If the treatment is successful, it would make her eligible for a life-saving bone-marrow transplant.
Acute lymphoblastic leukaemia is a cancer of the white blood cells.