Turbo the dog stabbed to death in Liverpool park and dumped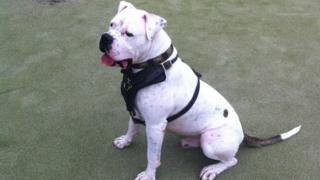 A dog was taken from its home to a park and stabbed to death before its body was dumped behind its owner's fence, said an animal charity.
The RSPCA said the white American bulldog, known as Turbo, was found dead with stab wounds at 22:30 BST on 24 August in Liverpool.
The charity believe it was walked to the entrance of Walton Hall Park a few metres away from its home on Glaslyn Way and stabbed three times.
Owner Ann Patterson is "devastated".
Ms Patterson said: "I'm disgusted that anyone could do such a horrible thing to such a beautiful animal.
"I loved him to bits."
She said her family including her grandchildren and sister-in-law were "totally devastated".
Her son bought Turbo after her previous dog died and she had been diagnosed with cancer.
She said a girl who lived nearby tried to resuscitate the dog.
Ms Patterson said: "She thought he had been run over... she didn't recognise Turbo because of all the blood."
The RSPCA said: "We believe that this poor dog was taken from his garden and walked to the entrance of Walton Hall Park a few metres away.
"There, it looks like he was stabbed three times, leaving blood on the pavement.
"His body was then left behind his owner's garden fence."
Merseyside Police described it as a "horrendous attack" and urged anyone with information to contact them.