Wirral health chiefs consider end to homeopathy funding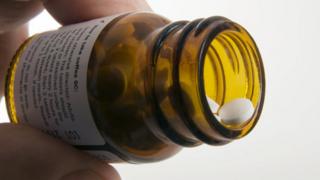 An NHS Group - said to be among the few still providing homeopathy - said it may stop the practice in the face of "overwhelming consensus" against it.
Wirral Clinical Commissioning Group (CCG) said 95% of people it consulted want to end funding for homeopathy.
The treatment, based on the concept of "like cures like", claims massively diluting toxic substances can have a "healing effect".
The NHS has said there is no evidence it is effective.
Wirral CCG also found 20 of 22 GPs surveyed wanted the NHS to stop paying for the service and another form of alternative medicine called Iscador.
The CCG has a £16,506 annual contract for the services, the report shows.
It will meet on Tuesday to make a final decision.
Homeopathy
Homeopathy is based on the use of highly diluted substances, which practitioners say can cause the body to heal itself.
The NHS has said there is "no good-quality evidence that homeopathy is effective as a treatment for any health condition."
A 2010 House of Commons Science and Technology Committee report on homeopathy said the remedies performed no better than placebos and that the principles on which homeopathy was based were "scientifically implausible".
Source: Homeopathy - NHS Choices
Liverpool CCG stopped funding homeopathy earlier this year.
Wirral, Bristol and London are the only areas left paying for the treatment, according to The Good Thinking Society, which is campaigning to have homeopathy blacklisted on the NHS.
Project Director, Michael Marshall, welcomed the report, saying it is "hugely encouraging" to see "such a clear message" that "disproven treatments such as homeopathy and Iscador have no place in the NHS."
Chair of the British Homeopathic Association, Margaret Wyllie, said patients' views were being ignored and if funding stops "many chronically ill patients will be deprived of a treatment that has improved their health."
The Department of Health confirmed it is planning a consultation about whether homeopathy should be put on a blacklist of treatments GPs in England are banned from prescribing.
About 8,894 homeopathic items were prescribed across England in 2015, NHS Digital data shows.