Chester city walls repair uncovers Roman gate tower remains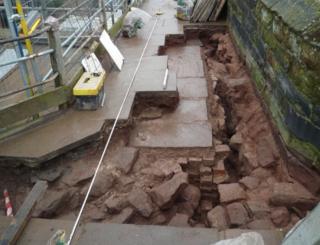 The previously undocumented remains of a Roman tower have been found by workers repairing Chester's city walls.
The stone foundations at Northgate were found under a set of 19th Century steps, which had been declared unsafe.
Archaeologists believe the tower was one of a pair that once flanked the northern entrance to the Roman fort on which the city was founded.
Local councillor Louise Griffiths said the "vitally important" discovery would improve understanding of the fort.
The team investigating the foundations had also found evidence of the wooden gateway that preceded the stone tower and of the later medieval gateway which replaced it.
The medieval North Gate, which also housed a gaol, was demolished in 1808 and replaced with the current structure soon after.
Archaeologists also found a chamber to the west of the steps, which is thought to be all that remains of two cottages built against the walls in the 18th Century.
A Cheshire West and Chester spokesman said the area around Northgate was "archaeologically... a very sensitive location", adding that it was hoped the replacement steps would allow the finds to remain on view.
The spokesman said the work to repair the steps had also revealed that section of the wall "may be moving" and, as a result, the area would remain closed will it is secured.