Merseyside and Cheshire NHS: Plans to downgrade three A&Es considered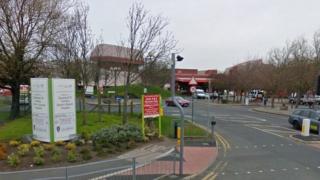 Plans to downgrade three A&E units in Cheshire and Merseyside have been considered as part of NHS budget cuts, according to a leaked report.
Changes to units in Macclesfield, Warrington, Knowsley and Southport were outlined in a document, written on 21 October and seen by BBC News.
Asked to make £909m cuts by 2020, NHS bosses in Cheshire and Merseyside have played down talk of immediate closures.
They said any A&E changes would first need "a strong clinical evidence base".
All local health and care providers in England are putting together five-year sustainability and transformation plans (STPs) designed to save money and "ensure services are built around the needs of local populations".
The NHS in Cheshire and Merseyside said proposals to downgrade A&Es had been removed from the most recent draft of its STP.
'Dangerous'
An earlier version of the plan suggested turning Macclesfield's A&E unit into a minor injury and illness unit, staffed by GPs.
Patients with more serious conditions would have to be treated at either Wythenshawe or Stepping Hill.
The Conservative MP for Macclesfield, David Rutley, accepted a review of health services was necessary but called the initial proposals "dangerous".
"We need to make sure that vital A&E services continue to be provided at Macclesfield Hospital."
He added: "I've been told that a minor injuries unit has not been, and will not be, considered as a serious option. The STP team and the CCG need to make that clear to the public."
The STP report also suggested two of the three A&E units in Warrington, Knowsley and Southport might no longer treat the most serious conditions, or be open around the clock.
Louise Shepherd, leading work on the Cheshire and Merseyside STP, said the plan "does signal intentions in some areas to conduct reviews of current urgent and emergency care services, to assess whether there may be clinical or sustainability issues which should be addressed".
"This may lead over time to options being proposed to change the way some services may be delivered in the future," she added.
She pointed out that a more recent draft of the STP did not include any specific proposals for A&E unit closures.
BBC News understands a final version of the STP is due to be published in the next few weeks.
John Pugh, the Liberal Democrat MP for Southport, criticised what he called a lack of transparency around the proposals.
"It's an entirely deceptive and dishonest process - it's not to do with clinical efficiency, it's not to do with patients' access, it's all to do with saving money," he said.