Wallasey Labour Party group suspension to be lifted in May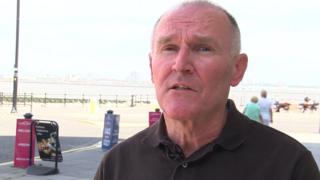 A Labour group which was suspended following complaints of abuse and intimidation will be reinstated in May, the party's governing body said.
Wallasey Constituency Labour Party (CLP) was suspended amid allegations MP Angela Eagle and her staff were subjected to bullying and intimidation.
Vice chair of the group, Paul Davies, has been referred to the National Constitutional Committee (NCC).
The committee has the power to suspend him for life.
Labour's National Executive Committee (NEC) said on Tuesday the group's suspension will be lifted after elections in May but with some strict changes.
They will have to hold fresh elections of party officers, be given equality training, and have meetings supervised by regional officials.
Ms Eagle faced criticism from sections of her party when she challenged Jeremy Corbyn in July 2016.
Her constituency staff complained about abusive calls and threats.
'Site of conflict'
A window at the MP's office building in Wallasey was smashed at the time.
In October, the NEC upheld Ms Eagle's complaints that she and her staff were subjected to homophobic abuse and intimidation by local party activists.
Ms Eagle eventually withdrew her candidacy in favour of colleague Owen Smith, who was beaten by Mr Corbyn in the leadership poll.
Investigations into two members of Wallasey CLP who were accused of bullying and intimidation concluded in February but the group remains suspended.
A spokesperson for Ms Eagle told the BBC it is "a matter of regret that Wallasey became a site of conflict" and Ms Eagle "takes no pleasure from any individual being referred to the Party's National Constitutional Committee."
Mr Davies has denied any intimidation took place and challenged Ms Eagle to a lie detector test.
He said: "They had to find someone guilty because they've taken such a strong stance on what is supposed to have happened in Wallasey CLP.
"They would look a bit daft if, after suspending the constituency party and things like that, no-one was found guilty of anything."
He said he has "applied for disclosure under the Data Protection Act" so the party has to "show me all the information they hold about me".