National Trust to own Formby's red squirrel woodlands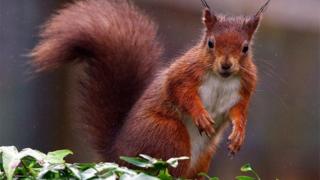 The National Trust is to take over land in Merseyside which includes woods that are home to rare red squirrels.
Current owner Sefton Council is considering disposing of the land to the northern and southern side of Formby Point.
The 200-hectare conservation area is home to wildlife including sand lizards, northern dune tiger beetles and the natterjack toad.
Pine woodlands that fringe the coast are also home to red squirrels.
The rodents like to feed on seeds found in pine cones.
'Squirrel pox'
This year marks 50 years since the National Trust has been working in Formby.
It said the acquisition "would ensure that this special place can continue to be used and enjoyed by future generations".
Red squirrel were once a common sight in woodlands, parks and gardens in the north west of England.
But a squirrel pox outbreak in 2008 wiped out 80% of their number on the Sefton coast.
The area has been classified as one of 17 red squirrel strongholds in the North of England.