Liverpool councillors reject 9% council tax rise call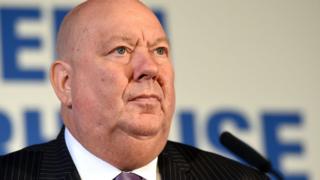 A call for a referendum to increase council tax by 9% has been rejected by Liverpool city councillors as the debate descended into heated rows.
The Green Party claimed its proposal would raise an extra £6m to offset cuts of £90m over the next three years.
Liverpool City Council instead voted for a 4.99% rise - most of which will be spent on adult social care.
Mayor Joe Anderson said he presented his budget, which could see about 300 jobs lost, with a "heavy heart".
'People very emotional'
Speaking at a full council meeting on Wednesday evening, Mr Anderson said the budget for the next three years would protect the vulnerable and grow the city's economy.
He highlighted schemes where the council has generated income thorough investments, like buying the Cunard building.
He also pledged to try and keep every library in the city open.
The end of the meeting descended into heated rows with Lord Mayor of Liverpool, Roz Gladden, saying it was "the worst meeting she has presided over".
Deputy mayor Ann O'Byrne said "passions did run very high".
"People are very emotional about this. We're talking about massive cuts to the city.
"In the cold light of day I think some people will be reflecting on some of the language they used."
The mayor previously suggested a one-off rise of up to 10% but that was rejected by Liverpool residents during a public consultation.