Neglected dog with tumour lived in squalor, RSPCA says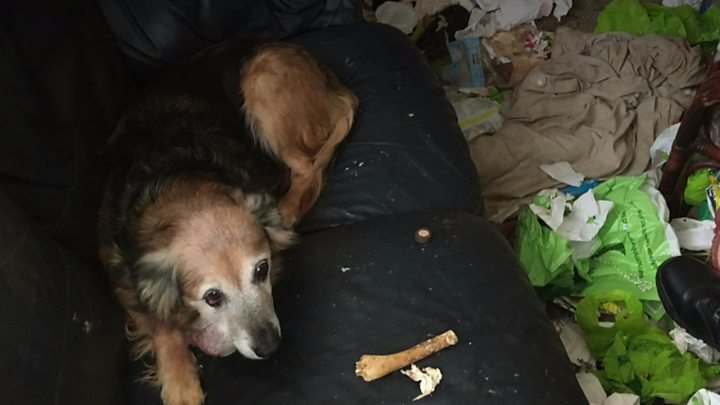 An elderly dog with a facial tumour the size of an orange has been rescued from a house strewn with rubbish, faeces and mouldy food, the RSPCA has revealed.
Timmy, 16, was found by firefighters who forced their way into the property in Wallasey, Merseyside, after fearing "there was a dead body in the house".
The collie-type dog was found on a sofa on 25 October 2016 and his former owner has been prosecuted by the RSPCA.
The tumour has since been removed and Timmy is recovering at a new home.
RSPCA inspector Anthony Joynes said fire crews went into the house in Selby Street after discovering a "very strong and unpleasant" smell through the letterbox.
"That's when they found Timmy. The house was in squalor - every room was full of faeces. It was very hard to not stand in faeces as the carpet was full of it.
"The ammonia smell from the urine was very strong and there was mouldy food and rubbish on the floor."
Had the wound been left any longer, Insp Joynes said "we could have been dealing with a dog on the brink of death, or even the body of a dog".
Tests found the tumour had not spread and it was surgically removed.
"Timmy is now living with a vet on a farm in Cheshire and he is having such a lovely life.
"There is a genuinely happy ending to such a sad case," Insp Joynes said.