Driver killed 'mate's dad' racing home to meet curfew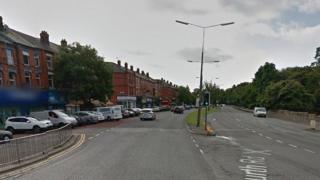 A speeding driver unwittingly killed his friend's father while rushing home to meet an electronic curfew, a court heard.
Liverpool Crown Court was told Edward Rigby, 26, was driving "aggressively" when his car hit Mark Whyte in April.
Mr Whyte was crossing Aigburth Road, Liverpool, when he was struck by Rigby, who was rushing home.
Rigby, of no fixed address, admitted causing death by dangerous driving and was jailed for five years.
The court heard the defendant, who was on licence for a drugs offence, had been racing home to Widnes, Cheshire in order to meet his 19:00 GMT electronic curfew, when he struck Mr Whyte.
CCTV footage was shown of a white VW Golf driven by Rigby tailgating a car out of a car park in the Liverpool One shopping centre, before running two red lights and overtaking and undertaking traffic at speed.
At about 18:50 on 19 April, Mr Whyte was sent flying into the air, while Rigby's car hit a lamp-post and road sign before coming to a stop.
He died at the scene from head and chest injuries.
'Never forgive'
When he saw Mr Whyte lying on the road, Rigby was allegedly heard to say: "Oh my God, it's my mate's dad."
Mr Whyte's partner, Karen Lowe, said in a victim impact statement she would "never be able to forgive" Rigby for taking away the love of her life.
His daughter, Stacey Grant, said Rigby was grieving as much as her family and whatever punishment the court imposed, he would have to live with what he had done.
In a letter to the court, Rigby said he would "punish himself for the rest of his life" for the death of a family friend, who had been present at the hospital when he was born.
The court heard he had given a £3,000 legacy from his grandmother to help with Mr Whyte's funeral costs.
As well as jailing Rigby, Judge William Davis also imposed a seven-and-a-half year driving ban.
He told him: "You drove at excessive speed and drove aggressively with disregard for anyone else on the road because you were worried about going back to prison."