Girl, 4, critical in hospital after suspected hit-and-run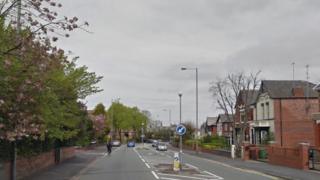 A four-year-old girl is critically ill in hospital after a suspected stolen car mounted the pavement and hit her in St Helens, police said.
The girl was walking with a woman, aged 55, when they were hit by a black Ford Fiesta at 15:00 GMT on Prescot Road.
The car then hit a lamp-post before the two male occupants reportedly fled on foot.
The girl was taken to hospital. The woman is serious but stable
Prescot Road was closed from Lugsmore Lane to Dunriding Lane.