Merseyside Police warning to Wheel of Liverpool climber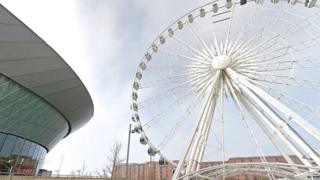 A video blogger who climbed Liverpool's big wheel has been warned over his "exceptionally dangerous high jinks".
Jason Osborne, 18, was spotted climbing the Wheel of Liverpool shortly after 06:10 GMT on 23 March by a member of public who told the police.
A video on YouTube showed him climbing the tourist attraction before being met by officers at ground level.
Merseyside Police said it had offered "advice" to the teenager.
Mr Osborne said: "I've been practising Parkour for around five years and climbing comes natural to me but I still take precautions."
'Terrible consequences'
He added: "I'd also like to say this is done purely out of my own interest and wouldn't advise anyone to do it without training."
"Through Parkour I have become confident in my own ability and have had years of climbing experience," he added.
Insp Steve Hardy, of Merseyside Police, said: "Climbing a structure such as this is exceptionally dangerous.
"While this may seem just like high jinks it could have terrible consequences."
The Wheel of Liverpool, which opened in 2010, is 196ft (60m) high, weighs 365 tonnes and has 42 capsules that rotate around it.