Meat-mad couple marry at Spam museum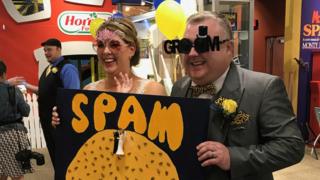 A Spam-mad couple have held their wedding at a museum dedicated to the tinned treat.
Mark Benson and fiancee Anne Mousley tied the knot while surrounded by meat memorabilia at the Spam museum in Austin, Minnesota.
Mr Benson - who changed his middle name to I Love Spam - and his new wife made the journey from their home in Halewood on Merseyside.
They were the first couple to marry at the site.
Mr Benson, who legally changed his middle name by deed poll in 2015, has a family connection with the foodstuff as both his grandfather and uncle worked at the Merseyside factory which made the product.
The couple have been engaged for almost eight years and were joined by their two daughters Milly, 5, and Evie, 4, who took part as bridesmaids.
Mr Benson said: "My big day has been more than I could ever have dreamed of and when I saw Anne and my girls walking down the aisle I didn't think I was going to keep it together."
After being pronounced Spam and wife, the couple posed outside the museum for photos and cut their specially-made Spam-themed wedding cake.
The happy couple will now head off on their to Hawaii - the state with the biggest consumption of Spam products in the USA.