New Ferry blast: Two men arrested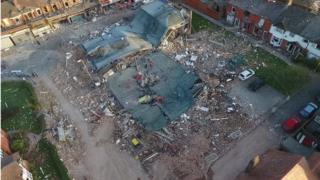 Two men have been arrested after a suspected gas blast in Merseyside.
Two people were seriously hurt and 31 others injured in the explosion at New Ferry, Wirral, on 25 March.
Police have held a 62 year-old from North Wales and 55 year-old from Wirral on suspicion of conspiring to commit arson with intent or recklessness.
More than 100 people were evacuated from their homes after the blast. Ten properties that were badly damaged may have to be demolished.