New Ferry explosion: Third man arrested over 'gas blast'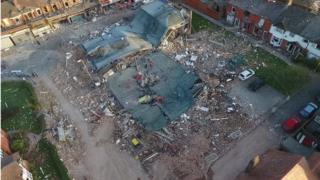 A third man has been arrested following an explosion in which 100 people were evacuated from their homes.
Two people were seriously hurt and 31 injured in a suspected gas blast at New Ferry, Wirral, on 25 March.
A 65-year-old man from Cheshire has been held on suspicion of conspiring to commit arson with intent or recklessness and a fraud charge.
Two men arrested on Wednesday have been released from custody but remain under police investigation.