Manchester attack victim Megan Hurley 'taken far too early'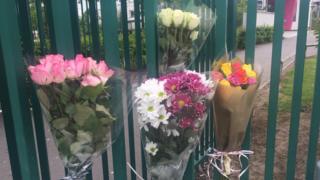 A 15-year-old girl from Merseyside has been confirmed as one of the victims of the attack after the Ariana Grande concert at Manchester Arena.
Megan Hurley is the 22nd victim to be named after the attack on Monday night.
Her elder brother, Bradley, 20, was seriously injured in the attack.
Maxine Benson, the aunt of the Halewood Academy pupil, confirmed on Facebook the teenager had died and asked for "privacy and respect at this devastating time".
A JustGiving page set up to raise funds for her family has reached almost £9,000 and says she "was taken far too early".
Helen McDermott, who organised the fundraising, posted: "Let's help Megan Hurley's family as much as possible guys this is an awful time for the whole country but we can do our bit for our own".
Megan had been given tickets for the concert as a birthday surprise.
Pupils at her school paid tribute to the teenager by tying pink balloons at the entrance of Halewood Academy.
Among the donors was Anji Taylor, who wrote: "I did not know you Megan , but my son worked with your lovely brother and I'm sending healing thoughts to him. Rest in peace little angel xxx".
Connor Grove wrote: "RIP Megan! Such a terrible thing to happen to such a nice family. Can't even begin to understand how they are feeling. I wish Brad a full and speedy recovery."
School principal Gary Evans said: "On Tuesday morning, we were told the dreadful news that one of our students was a victim of the atrocity that took place in Manchester on Monday evening.
"This has been a huge loss to all of us."
He said the school will stay open next week during half term for any pupils who need support. Staff have volunteered to work alongside health professionals and counsellors.