Hundreds in Liverpool for EDL and counter demonstrations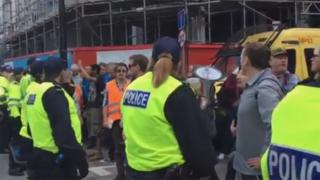 Riot police stepped in to prevent clashes between the English Defence League and anti-fascist protesters during a demonstration in Liverpool.
The demonstration was confined to a side street before officers moved protesters towards Lime Street station.
Twelve people were arrested for various offences under the Public Order Act.
Deputy Chief Constable Carl Foulkes, said following "increasing animosity between both groups the decision was made to disperse those involved".
He said the decision was made "in the interests of the safety of those working, living and visiting the city centre.
"At some points members of the left wing were seen to throw darts and flares were also activated."
The EDL group said the protest, involving hundreds of people, was being held to highlight a number of issues, including Islamic terrorism.
Members from branches including Coventry and the North East of England waved St George's flags.