'Football-shaped' hen's egg sells for £102 at auction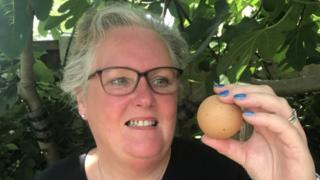 A buyer has shelled out £102 for a "football-shaped" egg at auction.
Lesley Reith, from Oxton in Wirral, said one of her four hens had laid the spherical egg on 10 June.
She said she was about to make an omelette with it, before a friend convinced her to sell it online instead in support of an animal charity.
Bidders scrambled to buy the natural treasure in the 10-day auction, which she said was "egg-cellent news" for her chosen dog charity.
Ms Reith said she was shocked when she first discovered the egg in the nest box.
"It was really strange. I used to have 50 chickens at my allotment and I have never seen one before," she said.
"I don't think I'll ever see one again - I think it's once in a lifetime."
A spokeswoman for the British Egg Information Service said round eggs were "unusual but not rare", adding that they were more common when hens first started laying.
Ms Reith said judging by the colour, it was probably laid by one of her Amber Star hens, "Hetty or Letty".
She said that she would "have to pack it very carefully" before sending it to the buyer in the post.
The money raised by the auction will go to the Run Free Alliance charity, which helps "promote the welfare, care and future of beagles used for scientific research and experimentation".