Yusuf Sonko: Mother's plea to catch son's murderer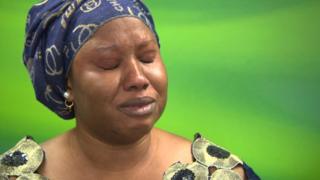 The mother of an 18-year-old murder victim has made an emotional appeal for help to catch his killers.
Khadijah Sonko, whose student son was shot in the head earlier this month in Liverpool, said: "We need justice to be done for Yusuf.
"Somebody somewhere killed Yusuf and the person is walking round - that is not fair."
A 21-year-old man and 17-year-old boy arrested on suspicion of murder are on bail pending further inquiries.
Mrs Sonko, 44, who works for a homeless charity, begged people to contact police if they could help in any way.
She said: "Anybody please, please from the family, from everybody, from all over the world, anybody who knows who killed Yusuf please tell the police.
"What happened is not right."
Mrs Sonko rushed to hospital after her "humble, kind and respectful" son was found shot in Tagus Street, Toxteth, at about 20:30 BST on 2 June.
"I held his hand. I kissed him. I said 'who did that to you, Yusuf?'
"That person took a family's life away. Yusuf had a nice home, a nice family. I worked hard to raise my son for this time.
"And at the time Yusuf was enjoying his life, somebody took him away," she said.
His sister Abby described her brother as "a very strong presence, very charismatic, kind, loving and he exuded that energy".
Mr Sonko's father taxi-driver, Papa, 66, added: "He was a boy who loved life.
"As a young man he loved to go out. I trusted him because I knew he was not a boy who was up to mischief."
Detectives believe 18-year-old Mr Sonko was shot as part of a dispute between rival groups of males in and around the Lodge Lane area.
He was due to sit his final A-level exam and had hoped to go on and study business at university.