Man admits killing family in John Lennon's former flat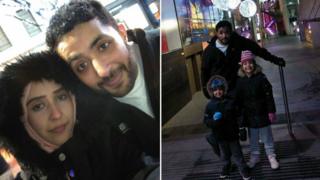 A man has admitted killing his wife and two children at a flat in Liverpool that John Lennon once lived in.
Arena Saeed and her children Shadia Salem, six, and Rami Saeed, four, were found at the flat in Falkner Street, near Toxteth, Liverpool on 30 May.
Sami Salem, 30, who appeared via video link at Liverpool Crown Court, accepted he unlawfully killed his family but did not formally enter murder pleas.
He will now be examined by a psychiatrist, the court heard.
Mr Salem, who was in tears and appeared to be rocking backwards and forwards, told the court: "I want to plead guilty to the suffocation of my wife and the drowning of my kids and I'm saying it now."
Judge David Aubrey adjourned the case until 22 September, when Mr Salem is expected to formally enter pleas.
Residents on Falkner Street were told to evacuate their homes due to concerns over a gas leak after the bodies were discovered.
The property in the Georgian Quarter is regularly visited by Beatles fans on tours of the city.
The flat was once owned by the band's manager, Brian Epstein, and Lennon lived there with his first wife Cynthia shortly after they married in 1962.