New Ferry explosion: Victims 'deserve Grenfell response'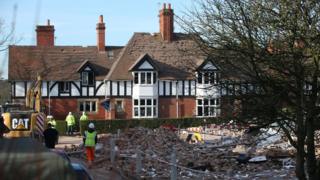 People affected by an explosion in Merseyside deserve "the same speed of response and support" as those in the Grenfell Tower fire, a council leader has said.
Two people were seriously hurt, 31 injured and many buildings destroyed in the blast in New Ferry, Wirral in March.
Wirral Council leader Phil Davies has appealed to ministers for assistance.
The government said it was awaiting a "detailed business case".
Mr Davies said the regeneration of the area was a "key priority" following the suspected gas blast.
Merseyside metro mayor Steve Rotheram also said a longer-term regeneration plan for the area "urgently needs significant investment and improvement... beyond the impact of the explosion".
He said: "This is actually an opportunity to take a much more holistic look at how we bring new life and investment to the area."
He added he was "hopeful" the government will provide "meaningful assistance to those most in need."
Mr Davies said: "Three months after the incident, we still await the government's response to our requests for assistance.
"Ministers must show the same speed of response and support they showed in London in the days immediately after the Grenfell Tower fire.
He added: "New Ferry will not be forgotten."
Twenty-five homes and four businesses were affected by the blast, with five apartments and all of the business premises having to be demolished.
Alison McGovern, Labour MP for Wirral South, called on the government on Monday to play its part in helping to fund and organise the recovery effort in New Ferry.
A spokesman for the Department for Communities and Local Government said: "Wirral Council has indicated the need for extra support for recovery efforts in New Ferry.
"We are now waiting for a detailed business case for consideration."