Freedom of Liverpool for campaigner Tony McGann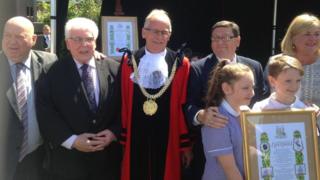 A campaigner who fought to save a community in Liverpool has been awarded the Freedom of the City.
Tony McGann opposed the council's plan to demolish homes in the 150-year-old Eldonians community in Vauxhall and drove its regeneration in the 1980s.
Mr McGann, and colleagues from the Eldonians Community Based Housing Association of which he is chairman, received the city's highest civic honour on Saturday at the village hall.
He said it is "a very proud day".
"Everyone who lives in the Eldonians has huge pride and passion in the area and a terrific sense of community spirit and it is truly humbling that we are being recognised," he added.
'Caring for neighbours'
Mr McGann and residents formed the Eldonians housing co-operative in 1983 to stop the council demolishing their homes and moving them to other estates across Merseyside.
They devised an alternative plan to build new affordable homes and community facilities on the site of the derelict Tate & Lyle sugar factory.
The community developed, built, and managed its own housing - and the area now has more than 400 houses, a community sports centre, a nursery and a community village hall.
The Eldonians "typify some of the greatest characteristics of scousers - a huge love for the city, a determination to improve lives and caring for their neighbours," Lord Mayor Malcolm Kennedy said.
Former Liverpool and England captain Steven Gerrard is also due to be made a freeman of the city but no date has been set for the ceremony.