Arsonist accidently set himself alight in Whiston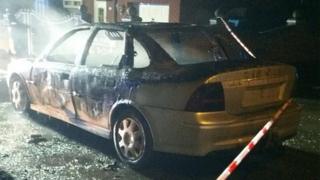 A man high on Spice accidentally turned himself into a human fireball when he poured petrol over his car and set it alight, a court has heard.
Anthony Waterson, 31, of Leigh, Wigan, ran down a quiet cul-de-sac in Whiston, Merseyside, in flames on 17 January.
Liverpool Crown Court heard "easily led" Waterson set fire to his car as he was urged to "bomb it" by onlookers.
Waterson, who said it was a "moment of madness", was sentenced to 12 months in prison, suspended for 18 months.
Third degree burns
He was also banned from driving for 12 months.
Waterson fled the scene but was tracked down at a hospital where he was being treated for third and fourth degree burns.
Chris Taylor, prosecuting, told the court a resident heard a car "razzing around with wheels spinning".
Mr Taylor said she saw Waterson get out of his car and "pouring something over it" as men in another car urged him to "bomb it".
He then threw what she presumed was a lighter at the car.
The court heard he had not put his Vauxhall Vectra's handbrake, causing it to career backwards. A nearby parked car caught fire and was later written off.
Waterson, of Robert Shaw Street, Leigh, who has 50 previous convictions, pleaded guilty to two offences of arson and driving without a licence and insurance.
His barrister Kate Morley said Waterson "cannot give a good reason" for his behaviour but "did not intend to cause others harm... and bitterly regrets" it.