Gang of men flips police car on its roof in Kirkby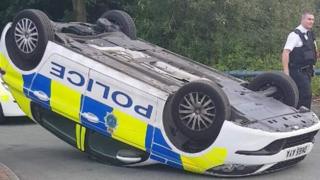 A police car was flipped on to its roof by a gang of men in Merseyside.
Officers had left the car parked on Shevington's Lane, Kirkby, on Monday while they investigated a report of anti-social behaviour.
When they later returned to the car it was on its roof. The offenders ran off in the direction of the Moorfield estate.
A man, 19, was arrested on suspicion of criminal damage before being released while inquiries continue.
Police have asked for any witnesses to contact them.