New Chinatown company plans to close after £200m project stalls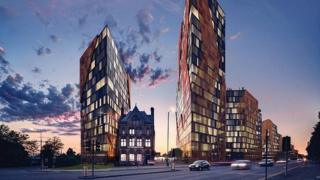 A company involved in a failed £200m regeneration scheme in Liverpool says it plans to close.
North Point Global's New Chinatown scheme to build 790 homes, a hotel, and shops near the Anglican Cathedral stalled in 2016.
The group, which is involved in four other developments in Liverpool and one in Manchester, "will seek to dispose of" all property interests, it said.
The council is pursuing legal action against one of the group's companies.
Earlier this month, Liverpool City Council began legal proceedings against Chinatown Development Company Ltd (CDC), one of North Point Global's family of companies.
The council gave CDC a deadline of 10 August to forfeit two leases on the Chinatown site and pay £950,000, but CDC said it would "vigorously" defend itself against the proceedings.
If this deadline is missed, the council said it would apply to wind up the company and recuperate the money.
But a statement from North Point Global said on Monday the group would now "seek to dispose of all of their property interests, return monies to buyer clients and then cease operations".
A council spokesman said the move "does not change the council's position regarding its chosen course of action" against CDC.
Deputy Mayor of Liverpool Ann O'Byrne earlier said the authority had "passed information to the National Crime Agency" but that she could give no more details.
North Point Global said the group had "never engaged in any criminal activity" and "have written to the National Crime Agency accordingly".