Rhys Jones murder 'no watershed for Liverpool gun crime'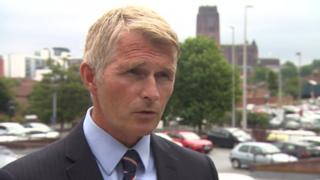 The murder of an 11-year-old boy in Liverpool 10 years ago has not deterred gun crime in the city, a leading police officer has said.
Rhys Jones was mistakenly shot by a gang member in Croxteth on his way home from football practice, in 2007.
Det Ch Supt Chris Green, of Merseyside Police, said: "It should have been a watershed moment" but some are still "only too willing" to use guns.
Sean Mercer, from Croxteth, was jailed for life in 2008 for Rhys's murder.
Det Ch Supt Green, Head of Investigations with Merseyside Police said "things have moved on" in Croxteth in the last decade with a "complete sea change" in the criminality in the area.
However, he said, it was not the same in other parts of Liverpool.
"Unfortunately... there are individuals who still continue to pick up the gun to protect their territory, their illegal businesses or settle petty disputes with a firearm," he said.
"There are still young men in our city only too willing to pick up a firearm and use it."
Mercer, who was 16 at the time, was a member of the Croxteth Crew gang when he took aim at a rival Norris Green gang member outside the Fir Tree pub, killing Rhys.
He was ordered to serve a minimum of 22 years.
A number of other members of the gang were also imprisoned for their part in his death.
Mr Green added: "We can talk about figures and fluctuations but one firearm discharged on our streets is one too many because it was one firearm discharged 10 years ago which led to the tragic loss of Rhys."
He also appealed to the community to help tackle gun crime.
"We've got to continue to work with communities across Merseyside to make sure that we have that same type of cohesion that we have in Croxteth transferring across the other areas of the city," he said.
In 2013, the Rhys Jones Community Centre opened in his memory in Croxteth.
'Very dark time'
It offers football, dance and keep fit classes, alternative education and is also a hub for local residents.
Karen Harper, one of the centre's trustees, said it was established so Rhys was "not associated with guns and gangs, because he wasn't".
"He was an innocent boy coming home from his football practice," she said.
Ms Harper says Rhys's death was a "very dark time" for the community.
"I remember it was my son's birthday four days after and he cancelled it," she said.
But the creation of the hub in Rhys's memory has had a positive impact on the area.
"I like to think this estate is better for having the centre," she said.
However, as an ex-worker in youth services at Liverpool City Council she said "nothing has changed with gun and knife crime".
"I think our young people can now get [weapons] easier than us going to the shop for a box of teabags, which is sad."