Stockbridge Village break-in: Woman bitten and PC attacked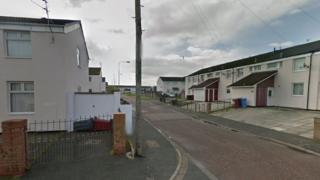 A man has been arrested after a woman was bitten and a police officer injured during a break-in.
A man in an "agitated state" forced his way into a house in Custley Hey, Stockbridge Village, Merseyside, on Sunday and assaulted a man and woman.
The woman, who he bit several times, needed a tetanus shot. An officer who subdued him was taken to hospital with bruised ribs and a broken nose.
The officer Tasered the man, who is thought to have been on drugs.
A man who lived in the house suffered cuts and bruising while trying to help the officer.
The 33-year-old man was arrested on suspicion of assault and burglary and will be questioned once he has been discharged from hospital, Merseyside Police said.