Len Saunders death: Youth detained for cigarette punch killing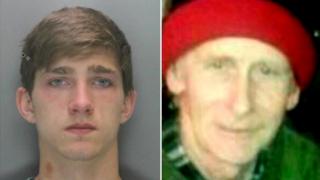 A 17-year-old boy has been detained for the manslaughter of a charity worker who was punched after he was stopped and asked for a cigarette.
Luke Woods attacked Len Saunders, 65, in St Helens in July. He died nine days later.
Woods, who pleaded guilty to manslaughter, has been sentenced to four years and four months detention by a judge at Liverpool Crown Court.
Mr Saunders' niece, Heba Soliman, said the killing was a "monstrous act".
The prosecution described it as an act of "gratuitous, unprovoked violence".
Mr Saunders and his friend Gregory Taylor were walking along Ward Street when they were approached by two people on the evening of 21 July.
One of them asked the pair if he could have a cigarette but when they said neither of them smoked, Mr Saunders was punched and fell to the ground.
He was taken to hospital with a serious head injury and died on 30 July.
The court heard Woods had been drinking vodka and taking drugs at the time he attacked Mr Saunders, who was described as a "kind, generous and humble" man.
The judge ruled that Woods could be named after the sentencing.
He told the boy he had "snuffed out" Mr Saunders' life and brought untold sadness and grief to countless people.
'Taken aback'
Mr Saunders was described as an "unsung hero" of the community, whose charity work included delivering food to orphanages in Romania.
His niece said his death had destroyed the family and the accused had shown no remorse.
A local bridge will be lit up in yellow in tribute to Mr Saunders when his funeral is held.
After the sentencing, Mr Taylor said he and Mr Saunders had been "accosted out of nowhere" by Woods.
"At the time it happened I was so taken aback that I didn't really have time to think, to either give chase or look after Len. Obviously in the end I tried to look after Len.
"Unfortunately events took over and nature took its course.
"I just sometimes wonder, it could've easily been me. And why it wasn't me I've no idea, there's only the young lad himself who can answer that."