'Stolen' Beatles Eleanor Rigby score removed from auction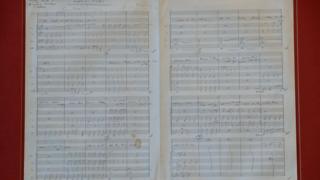 An original score for The Beatles' song Eleanor Rigby has been removed from an auction amid claims it was stolen.
The handwritten score, which is signed by Paul McCartney, was due to be sold later with a guide price of £20,000.
But Omega Auctions in Warrington, Cheshire, said it had removed the lot following a complaint from a woman in Bicester, Oxfordshire.
The auction house said an allegation of theft had been made to Thames Valley Police.
A spokeswoman said the allegation was made following a "family dispute" over the score's ownership.
Released in 1966, Eleanor Rigby became one of the Beatles' most celebrated hits.
The score was due to be sold as part of a wider sale of Beatles memorabilia, including deeds for a grave bearing Eleanor Rigby's name.
The grave in a Liverpool churchyard is often supposed to have inspired the song, but McCartney himself has denied this, and said Eleanor Rigby was "a totally fictitious character that I made up".